Tadi duk mengorek2 kotak lama cari trofi2 dr award2 yang pernah dapat spanjang hidup Epul! Kbanyakan dah takde and bungkus dlm kotak lama2... so ade lah beberapa yang dah berhabuk...!! Setiap kali dpt award , epul akan rasa diri ini sgt bharga n bangga!! Yelah kan....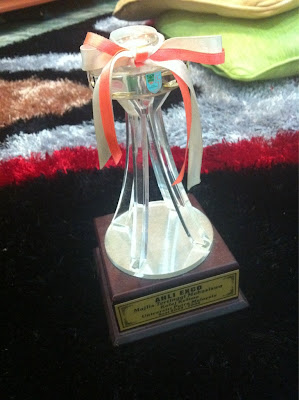 Award dr Kolej Kelima, UPM sbagai Exco Tertinggi Akademik! Bentuknya spt fountain kt kolej dulu, sgt memori!!
Award ni dpt masa menang Best Director masa Festival Teater UPM! Award ni mmg jd idaman ketika bgiat aktif dlm teater dan masa ni first time jd director! Msh jelas di ingatan ketika dpt tu..
Ni award masa Final year kt Fakulti dulu.. Dpt anugerah 'Gila Mic'!! Klako giler! Award ni dpt melalui undian semua student! Hhahaha!! Xleh lupee...skang ni bukan gile tp Sawan Mic..haha!
Yang ni tak sangka dapat sbb saingan sengit! Budayawan!! Alhamdulillah.... bile betol2 nak mesti dpt!
Ini satu-satunya award dr skolah Epul dulu... yang lain ntah kemana!
Award ni dpt masa masuk Festival Filem Pendek (kategori Iklan)! idea tetiba keluar dan trus shoot dgn geng2 kolej dulu...rindu seh! Xsangka menang! masa ni org lain wakil amikkan award! (dah patah sbnarnya)
Ni zaman lepas blaja! Wat team teater sendiri kt kuantan smata2 nk masuk Festival Teater Malaysia 2009! Alhamdulillah JOHAN from Pahang dan selected masuk final dan akhirnya jd Top 3 dalam Malaysia!! Sangat tidak sangka krn rasa xlayak sgt! Tp dah dpt ..Alhamdulillah...
Dalam festival yang sama, dapat 'BEST DIRECTOR' utk kali kedua dalam hidup!!
-
tapi THE MOST PRICELESS AWARD
yang kenangan terpahat dalam hati...
hasil perjuangan 2 tahun...
CDM Award dari company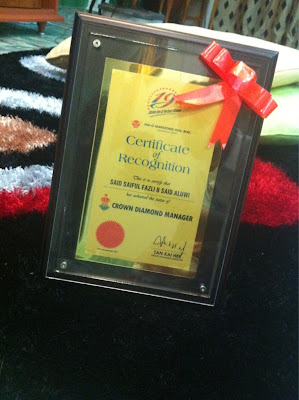 bila tengok ni, imbau kenangan masa 1st time join bisnes! Tak rasa pun boleh ke CDM krn jika anda lihat award2 sebelum ni XDE LANGSUNG KAITAN dengan bisnes tp berkat bimbingan dan smangat dr mentor2 , saya percaya saya boleh lakukan!!